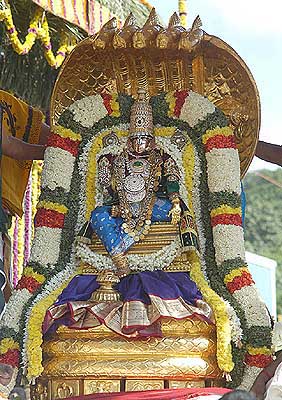 There about eleven differnet Vaahanam that are used in festivals such as Brahmotsavam in Thirumala.The use of Vaahanam add pomp and colour to such festivals.
During this nine day festival, Perumal and his consorts are mounted on different Vaahanam in the morning and evening. In these Vaahanam, Perumal is decorated as Vaikundanathan (on Sesha Vaahanam), Krishnan (on Kalpavriksha Vaahanam), Ramar (on Hanumantha Vaahanam).
In my openion, the Vaahana alangaram in Thirupathi is one of the best as they ensure the very best of garlands, jewerry and silk is used for each procession.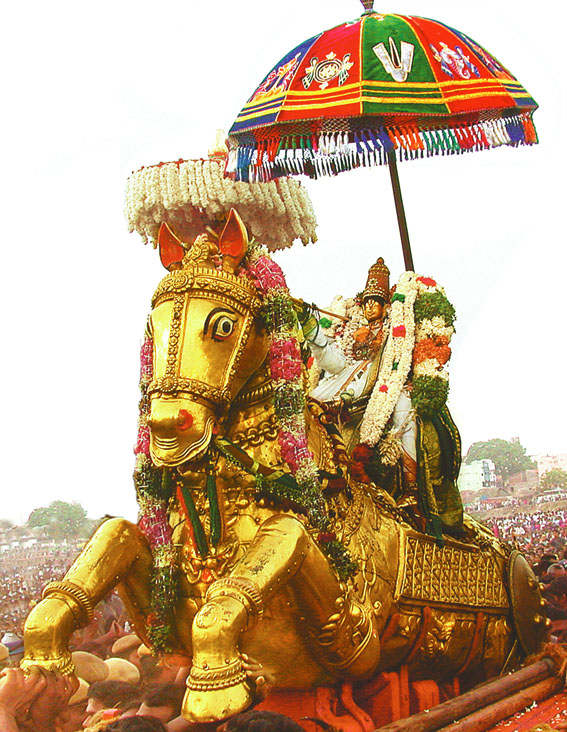 Another important festival when a Vaahanam is used is during the month of Chitirai where Sri Kallazhagar of Thirumaaliruncholai who goes to the Vaigai river on the Aswah (horse) vaahanam. This event is so famous that the whole of Madurai comes to a standstill when Azhagar comes to the Vaigai river.
The use of vaahanam for festival such as Brahmotsavam differs from temple to temple. This may be due to a particular practise or temple tradition.
For example, In India, during Brahmotsavam, Vaahanam are used both in the morning and evening processions. In some Vaishnava temples outside of India, (e.g Singapore), the Vaahanam is only used in the evenings.
This is to suit the timing of devotees who can come to temple after work as they are the ones who make up the manpower for the Vaahana procession.

---